Right, we're back to struggling though an alcoholic haze to get up really early or pulling an all nighter, depending on how much red wine you have on Saturday night.

But it's all worth it, well the first one is … because this is a big hairy chested manly circuit that likes to strut around with its pecks thrust out daring ne'er do wells to "have at it".
Suzuka is one of those circuits that likes to separate the talent from the money. Its fast, narrow and rewards drivers that like to go and attack the tarmac, cocking around being dangerous is a guaranteed trip to the wall. Respect the black stuff as you thrash the car for its impertinent remarks about matrons risqué hemline.
Japan is worth the trouble to get up early to watch, you can imagine the likes of Surtees, Lauda and Hunt thundering around the place in cars that regularly killed their drivers. In places there is little or no run off, no sop to the digital generation that must have their mistakes caressed and kissed away. If you go off line you go into the wall hard. The circuit sweeps and dives around the hill in a figure of eight until the cars reach the end of the lap and the fearsome 130R. There are so many sanitised corners around the worlds tracks now, no real sense of danger to them, in today's digital cars a driver merely has to turn the wheel and let the electronics do the rest.
Now don't get me wrong here, I'm an engineer and

I'm constantly in awe of a. the minds that created these technical marvels, and b. The modern drivers that can adjust brake bias, change the engine mapping programme, adjust their entry and exit speed of any given corner to save fuel and still avoid Maldonado spinning across their past at 180mph. Even Max is a better driver than we mere mortals, for some of you changing the

radio station and driving in a straight line can prove 'challenging' after all.
But Suzuka and its 130R, sorts the committed drivers from those that can shake hands and smile at suits really, really well. The driver approaches the corner though a tunnel of concrete and catch fencing as the speed builds to an eye watering 310km/h, the entry is blind the over the brow of a hill, a twitch of the computer console in the drivers hands flicks the car left. The really committed, the special few that are tilting for a pole lap, grab a lung full of air

before the lateral load builds to 6G and breathing is impossible for a split second. Driver and car flash under the gantry above the exit of the corner, before it's all over and the left foot stamps on the anchors to get the car slowed for the turn in to the hairpin.

It's a corner that demands respect and the driver to have total faith in the carbon fibre and metal machine under him.
This

.. this is what it's all about. This is why you wake up and watch it all live.
So then what's been happening around the circus.
Well the frothing about Alonso's future continues. With claim and counter claim being fired at the internet by

every hack with a laptop and some time to kill. McLaren Honda, stay with Ferrari, off to Porsche and a Le Mans drive etc etc. Who knows, I not sure Fernando knows to be honest.
Button has been jumping up and down at the back of the room with his hand in the air telling everyone that "Sir, sir .. please sir, Honda needs an experienced man that knows Honda and McLaren .. just like me in fact sir". For all the world giving the impression he wants to stay for another year!
Meanwhile Honda have released a few picture of what their new engine will look like before its slipped into the soft pouting confines of a McLaren MCP-dodarr-12-F-43-GB-JP-FAX F1 car.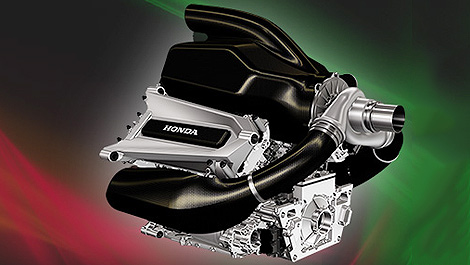 Guten tag boys ..eeerrr I mean Konnichiwa
And if I didn't know better I'd say it has more than a passing resemblance to the very successful Mercedes engine. Intercooler at the front, turbo at the rear. So maybe a year on the side lines has paid off after all, though the idea they have only now decided on the design and hasn't even been built yet, is quite frankly laughable. They'll have had half a dozen version run into the ground before the press got to see this one.

Still we shall see how it goes, which is expected to be the young drivers test at the end of the season in Dubai.
Also of note this weekend, the news that young Verstappen will get his big debut this weekend in Fridays free practice one. Lots of people will tell you he's too young, other that he's got the skills to pay the bills. He's certainly got the cash to buy his Torro Rosso seat so let's see how the youngest ever F1 driver copes with whole piranha pit shall we. Do you remember when you we 17 ? All I thought about back then was the contents of Juliet Browns cardigan and where I could get some cheap cider from. Which might explain why I'm writing this from an office in Yateley and not the Ferrari hospitality suit. Ho hum. Anyway .. good luck to him, there's plenty of time to be rude about him next year.
Over in Sauber land things look like they're about to reach crunch time. Simona De Silvestro, the next lady to get a pop at an F1 drive and who some consider to be on a par with the mid field boys at least. Was supposed to be getting a seat in the car next year, but it looks like the Sauber boys were asking just too much money. Contract negotiations have broken down, much like the car this year, apparently the problem is on her side and I suspect she's been outbid for next year's car. Given how well Sutil has gone this year, that might not be a bad result for her career anyway.
Okay enough, the race is on at some ungodly hour of the morning, If you have Sky and motors TV then this weekend also see the final American Le mans series race at Road Atlanta on Saturday night.

(I know its TUSCC now but most of these people will have no idea what that means, pipe down at the back). Endurance racing at its not quite best, it's worth watching if you want to hear big grunty V8 and Ferrari V12 being ragged through the American countryside.
Done forget to update your predictions … yes some of you really do need to .. and good luck.